DIVESITES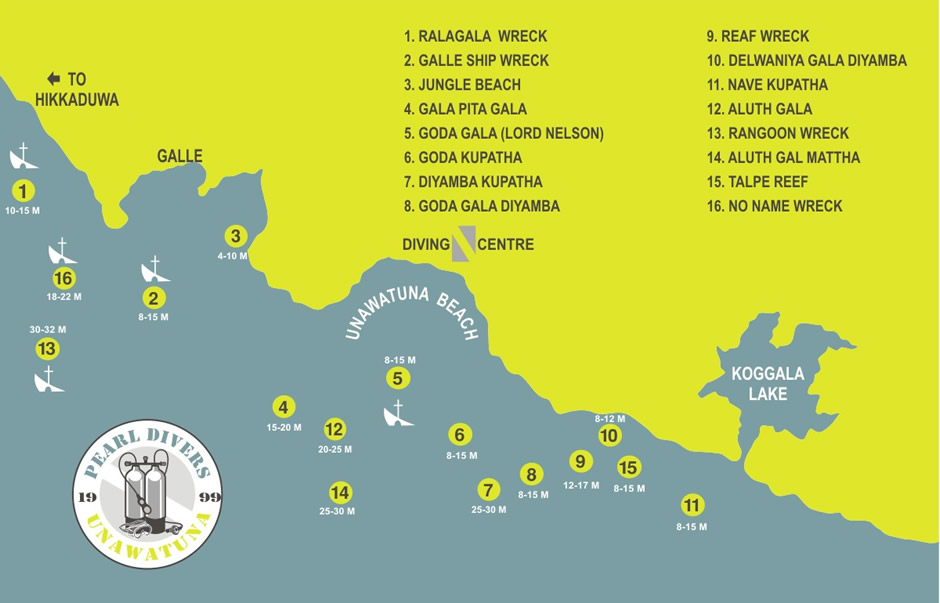 01. The Ralagala Wreck


This is one of wonderful dive site in area. This is the point where waves break and there are many corals and marine life you can see. This amazing location situated 20 meters deep there is another ship is resting but don't have any records about her. it will be a whole new experience to you because there are many ancient things to look at and those things even exists today. There are interesting remnants of the wreck such like oil barrels, transmission parts and relatively intact parts of the great hull. She provided shade for such as Snappers, Angelfish, Prorcupinefish, Pufferfish, Large Titan Triggerfish and Giant Moray. You can spend many hours to study this great conch. Even there are many fauna and flora can be found inside and around the conch.
02. The Galle Ship Wreck (Tango Wreck)


This site consists of about 20 large iron cannon, located between Gibbet and Closenburg Islands. The site extends from close to the shore in a roughly southerly direction down to a depth of about 24 m. Some of the cannon on the shoreward part of the site were badly eroded by sand abrasion and, in some cases; the bore of the gun was exposed. The position of the site is interesting; it lies on what was Gibbet Island, to the west of the entrance (now filled in) to what was once a small bay between Gibbet and Closenburg Islands. This area has been filled in during the development of the harbour. It was thought, at first, that the site was either a shipwreck or a place where cannon had been abandoned, possibly from a battery on Gibbet Island.
03. Jungle beach


25 minutes away from Unawatuna. It is surrounded by jungle and we can see a temple. There is one restaurant and it is like a private beach. No rough in this area can start diving from 1 and 2 meters. The deepest place is 15 m. Many beautiful coral and color fish. There was a project pearl cultivation program by Japanese. There is a coral reef. Many animals we can see it has been spread within one km. Perfect for snorkeling. It is perfect place for Beginners, and for professional divers. Jungle beach Located in near Rumassala Mountain. It wills new experience to dive in Jungle beach.
04. Galapita Gala Dive Site


This amazing diving place located in 10 minutes away from the diving centre. This is one of amazing creation of Mother Nature. There is rock on a top of a rock. This is rocky area medium size rocks. You will see 03 meters long cave in here and can see Slugs, Coral Trees and different kind of coral fishes. The depth is 25 meters. Can see the black corals, soft and fan corals. Also you can see varieties of sponge and sea worms. Easily you will see Manta Rays, Sting Rays, Blue Ring angle fish, Lion fish.
05. Goda Gala (Lord Nelson Wreck)


This is modern ship sunk in the year of 2000. It was carrying a cargo of cement. Penetration is possible in most of the wreck and lots of reef fishes. Even this is one of great and fun diving place located near Unawatuana. There are many fishes and fauna and flora in this ship now she is resting in deep Indian Ocean. This diving spot located very near to Pearl divers and within short time you can reach their. You will see Mantas in huge amount and the visibility is perfect. You will never forget about this beautiful dive site.
06. Goda Kupatha


05 minutes away from Unawatuna. The deep is 18 M, coral and rocky area. Different kind of rays we can see. Natural made one. This is amazing creation of Mother Nature and there is a big rock raise from bottom of sea. Beginners or experience people can get this. Also we can see growing corals in here it is amazing thing to watch. In here we can see many fish's species and various rays.
07. Diyamba Kupatha


This diving site located 20 minutes away from the Diving Centre, located to left side to Unawatuna. The deep 25-30 m and can see many rocks and wide spread rocky area. There are Black Corals, Red Corals, Moray Ells, Trivially and anemone. Within 35 minutes 40 minutes to complete this diving place and it spreads within one kilometer. Also sometimes we can see dolphins and Whale Sharks especially in February. Ones you dive in here that experience won't forget to you because there are many things to look in this natural made diving place.
08. Goda gala diyamba- Napolian reef


This stunning diving site located 10 minutes away from dive centre to the left side. This starts with 06m and we can go 18m under. The Reef spread with one KM can see Rocky and reef area. There is much different kind of reef fishes. We can see napoleon fish. The one fish is 40 kg more than weight. There are many Groupers, Moray ells, various types of sea plants and slugs. Natural made one. This is one of great and stunning dive site located in near Unawatuna.
09. Reef Wreck


This is one of really amazing diving place located near Unawatuna. The dive site located near to dive centre. You can see a natural made reef with many beautiful things. This is one of great creation of Mother Nature. Ones you dive you can see yellow finned Trevally, Damselfish, Goatfish and Snappers, Banner fish Angelfish, Butterfly fish, Emperors, Big eyes, and Fusiliers you will find. It will be one of great memorable thing for you. This is one of very beautiful natural resource in Galle. You can take many photographs and this is very good opportunity to study about the endemic fish species behavior and their interrelationships.
10. Delvaniyagala Diyamba


Diving in this point is really amazing. There are many corals and reef also this is one of great creation of Mother Nature and this is one of close destination from Pearl Divers. In this place you will see many Snappers, Angelfish and Giant Moray. Even this place is one of great shade for many fishes. You will never forget about this diving spot because the visibility is perfect most of time.
11. Navy Kupatha


The diving place located 20 minutes from the Pearl Divers. There are many rocky areas with coral. This dive site spread more than one KM and we dive in pre identified beautiful places. This place can visit for beginners or advance certified people and there are many things to take photos. Also you will see many and various different kind of coral fishes and animals. The visibility is good most of times and you will get many good sweet memories of this dive site. These will one of great experience for you. There are many fishes you can see like Pelagics, Rays, Groupers, Snappers, Turtles, Eels, Jacks, Barracudas, Various Marine Life. Within a short time you can reach to this amazing and wonderful place.
12. Aluth gala


The diving site located in 15 minutes away from diving centre. There is amazing creation that is this stone made as a pinnacle and you have to dive in a pinnacle way. It starts 9m deep. You can see many fishes like Manthays, Leaf scorpion fish 25 m deep. Lion fish many can seep, Snappers, stone fishes, Barracuda, Perfect place for advance divers. The experience you won't forget in Aluth gala. There are many Groupers, Moray ells, various types of sea plants and slugs.
13. Rangoon wreck


Galle harbor one of historical harbor in Sri Lanka and it was one of major trade city since many centuries. Since ancient time many ships came and returned to this natural harbor. Near the Galle Harbor mouth there is a ship wreck called Rangoon. This amazing and marvelous ship wreck finds 32 m deep sea. Even this ship is sanding proudly upright in beautiful unpolluted white sandy bottom. The front of the ship likes Viking Ship. This beautiful untouched treasure name is SS Rangoon with 60 m long and 1800 tons heavy sailing / steamer built by Samuda Bros of London in 1863. The captain was G.F Henry and its steam engines thrust out 400 PHP routine trips from Suez to Calcutta.
Diving in Rangoon wreck is one of significant thing and it is full filled of many fish species. The visibility is very clear even 32 m deep and there are many Jelly fish and Javanese Rabbitfish, Grey Snappers and darting Blue fin Trevally. Even this amazing experience will never forget to you.
14. Aluthgal Mattha


This diving place is little different because it has many specialties because some areas can be reached to advance or more skilled person. So this is a good place for beginners or advance both can enjoy the place. The diving centre takes the divers according to their experience and certificates. Even this place always consists with many coral fishes and coral even this is a home for many fauna and flora.
15. Talpe Reef


This is one of large spread natural made coral reef and there are very beautiful fauna and flora located in here and the variety of the dive place is very high. The dive site located not too deep in the Indian Ocean and this beautiful coral reef provides shade for many fishes like Snapper, Moray Ells. This is one of stunning place to dive.
16. No name wreck –


There is a no name wreck because there is no clear historical data of this ship. As we know this is steam and sailing British cargo ship travel near to Sri Lanka. With some kind of accident she has to stop the travel and able to rest in near Galle. She lays 24m deep. The length of the ship is nearly 60 m. Ones you visit can see Stemmer and Propeller. There are many fishes like Mantha , Leaf scorpion fish 25 m deep. Lion fish many can seep, Snappers, stone fishes, Barracuda, Perfect place for advance divers.