OUR TEAM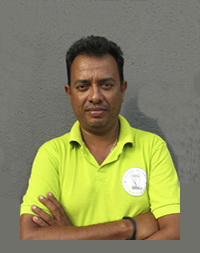 Sumith Wijesena
Owner of Pearl Divers
Sumith is dive certified in Germany and has over 22 years of diving experience both here in Sri lanka and in Europe. He has spent his life in and out of the water and has dived in both fresh water lakes and sea water. He is much loved and respected by his team and those lucky enough to get to know him.Sumith only wants the best for his customers and when you are happy, so is he. He is really looking forward to meeting you at Pearl Divers Unawatuna Padi Resort.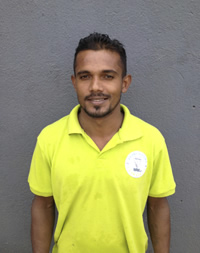 W. Prabath Kumara
Dive Master
Prabath has over thirteen years diving experience and has dived over five thousand times . He is one of the most experienced and skillful divers of our diving centre and can dive more than 45 m. He was born in Thalpe, Unawatuna and is 32 years old. He loves the water and has an ability to dive the whole day. Prabath speaks Sinhala & English. He is a invaluable member or our dive team and everybody who dives with him comes out with a smile !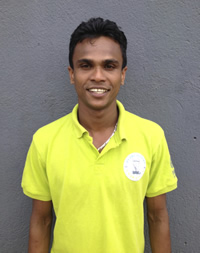 K.W.Nuwan Harshana(Chuti) Manager & Rescue Diver
Our manager affectionately known as Chuti, is also a rescue diver . Chuti has 10 years experience in the diving sector. He is responsible for pre preparation & crew handling. His diving range is forty meters. Diving is in his blood as he was born in Unawatuna and has spent his whole life near or in the water. Normally he is the first person that you will meet when you visit to our diving resort.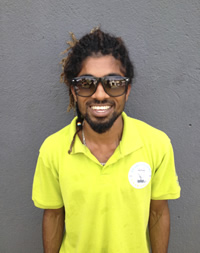 W.Chamith (Babi) Advanced Open Water Rescue Diver
He is one of our all round crew members at Pearl Divers Resort. He is 26 years old and also has more than five thousand dives. He has an excellent ability with handling boats and he is full of knowledge about boat engines. He can speak English and Spanish and has grown up in Unawatuna so knows the surrounding sea very well.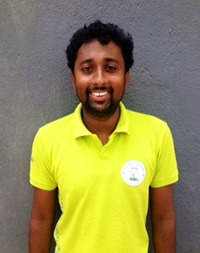 INDIKA PUJITHA
PADI Instructor
Indika is our Master Scuba Dive Trainer ( 487792 ) and has been diving for more then 12 years . He has dived in Thailand Maldives, Malaysia, India and believe it or not in a very cold Scotland !
Indika received his certification in Thailand and spends 6 months of the year here and the other 6 months travelling around the world diving . He speaks English & Sinhala and is looking forward to meeting you at Pearl Divers in Unawatuna .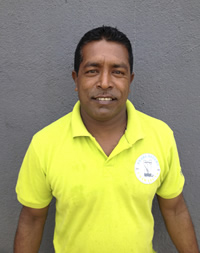 R.H Sirinaga (Ranji)
CMAS Assistant Instructor
One of our most senior divers, Rangi has 20 years experience. He has dived more then ten thousand times all over our beautiful island and knows it like the back of his hand. His wealth of experience makes him one of the most popular divers in our dive school. He is a family man with grown children and is as much at home in the water as he is out of it . He can speak good English and is a very responsible diver.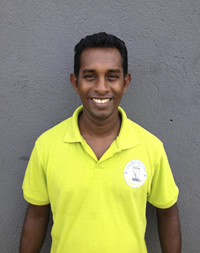 Danesh (Mala) House Artist & Equipment Specialist
Mala is the backbone of our diving center. He is the equipment technician and has fourteen years experience in this field. Mala is an amazing artist and has created all our logos and signboards for Pearl Divers. He can speak a little English and before every dive he checks the equipment to make sure it is all working properly .He is always dedicated to his work and never gives anything less then 100%. He is an invaluable member of our team.
R.H Vinosh Mewan(Galla) Boatman
Vinosh is 22 years old and born in Unawatuna with a deep connection to the sea. He is working as a boatman with our team at Pearl Divers Resort and is very knowledgeable on the dive locations, along with being an expert on the technical side of boats and its engine. Vinosh has four years experience in snorkeling and can speak English and Spanish.